On November 24 Br. Robert Sevensky talked with the Dean of the National Cathedral, the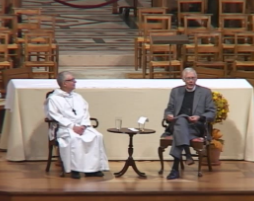 Very Rev. Gary Hall, as a guest of the Cathedral's Forum series. You can watch the episode here. Br. Robert talked about religious life in the Episcopal Church, prayer, personal and communal spirituality. We think it's certainly worth watching!
Br. Robert visited us in Poland in September, which we wrote about here, and a few days ago, on the day he is commemorated in the Episcopal Church, we wrote a post about the founder of the Order of the Holy Cros, Fr. James Huntington.