Oczywiście obchodzimy dzisiaj pamiątkę Najświętszego Imienia Jezus, a ta pusta butelka po J. Oppmann Franken Cuvee 2004 to zupełny przypadek. Staramy się przecież żyć w rytmie roku kościelnego, a to oznacza, że nowy rok świętowaliśmy już miesiąc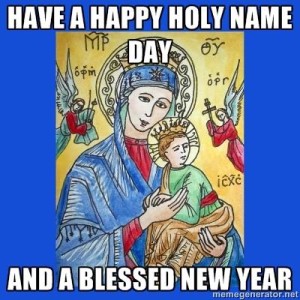 temu. Tak więc również episkopalnego mema z życzeniami na święto nadania imienia Betlejemskiemu Dzieciątku i na Nowy Rok uważamy, pomimo pierwszeństwa, które przyznaje on świętu kościelnemu, za niebezpieczne ustępstwo na rzecz kalendarza świeckiego. Ale poważnie. Pożegnanie starego i powitanie nowego roku, które przełamuje dwunastodniowe obchody Bożego Narodzenia niemal na połowę, to jednak pewien zgrzyt. Albo jesteśmy przekonani, że Wcielenie boskiego Słowa zwiastuje początek czegoś zupełnie nowego w dziejach świata, albo zajmujemy się takimi drobiazgami, jak "Nowy Rok". Szczerze mówiąc, oczywiście to drugie, o czym dobitnie świadczy wyżej wzmiankowana butelka (swoją drogą, gdyby producent chciał zapłacić nam za reklamę, może skorzystać z adresu kontaktowego, który podajemy na stronie).
Skoro przyznaliśmy się już do tej niekonsekwencji, warto może poświęcić chwilę uwagi pytaniu, czy aby nie da się tych dwóch obchodów jakoś ze sobą połączyć. W tej kwestii przyszły nam do głowy dwie refleksje, obydwie zresztą zainspirowane, jak to zazwyczaj z nami bywa, liturgią. Ostatni dzień roku rozpoczęliśmy wysłuchaniem modlitwy porannej na stronie Davida Guthrie. Nowozelandzki Modlitewnik Powszechny przewiduje na pierwszą niedzielę po Bożym Narodzeniu następującą kolektę:
Jezu, Twoje drogi nie są naszymi drogami. Jesteś tym żydowskim chłopcem, tym stawiającym pytania dzieckiem, które rodzice stracili z oczu. Spraw, abyśmy byli gotowi słuchać i zachowali pokorę w stosunku do tego, co wierzymy, że jest właściwe. Usłysz tę modlitwę ze względu na swoją miłość. Amen.
Pierwsze, co przyszło nam do głowy po usłyszeniu tej modlitwy, to że świetnie pasuje ona do nastroju Nowego Roku – czasu, w którym życzymy sobie wszelkiej pomyślności, co oznacza ni mniej ni więcej, że spełnić ma się wszystko to, co pomyślimy. W świetle tak niebezpiecznego życzenia (wyobraźmy sobie, że rzeczywiście by się spełniło!) wychodzi na jaw, jak bardzo potrzebujemy właśnie pewnej pokory i dystansu wobec tego, co uważamy za słuszne, i jak ważne jest, byśmy nie tylko w tym tygodniu, ale na co dzień pozwalali temu żydowskiemu chłopcu zadawać swoje trudne i niewygodne pytania nie tylko uczonym w Piśmie z jerozolimskiej świątyni, lecz przede wszystkim nam samym. Czy to jest to, czego naprawdę chcesz? Czy właśnie od tego zależy Twoje szczęście?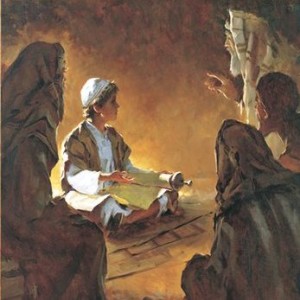 A propos szczęścia. Po tradycyjnie zarwanej sylwestrowej nocy rozpoczęliśmy dzień od obejrzenia nabożeństwa na Nowy Rok transmitowanego przez 2. program niemieckiej telewizji z Frauenkirche w Dreźnie. Jak zwykle jego osnowę stanowiło hasło biblijne na rozpoczęty właśnie rok (Jahreslosung): "Moim szczęściem jest być blisko Boga" (Ps 73, 28). Słysząc te słowa w dzień pamiątki Najświętszego Imienia Pańskiego, trudno nie skojarzyć ich z imieniem, które pojawia się w proroctwie Izajasza i które chrześcijanie odnoszą do Jezusa z Nazaretu: Emmanuel, Bóg z Nami. W Jego osobie Bóg realizuje swoją potrzebę bliskości z człowiekiem w sposób, który zmienia wszystkie odniesienia pomiędzy Stwórcą i stworzeniem, znosi wszelkie bariery i prowadzi do tego najgłębszego, najbardziej intymnego związku, który wyrażamy słowem Bogoczłowieczeństwo. I to właśnie pod hasłem tej bliskości Boga ma nam upływać rozpoczęty dziś rok 2014. Nie pod znakiem szczęścia, które wypływa ze spełnienia wszystkich pragnień, lecz tego, które wynika z obcowania z Bogiem, objawiającego się w osobie zadającego trudne pytania i poddającego pod wątpliwość nasze wizje i przekonania żydowskiego chłopca. Wygląda na to, że czeka nas naprawdę ciekawy rok…