Today we're of course celebrating the Holy Name of Jesus, and the empty bottle of J. Oppmann Franken Cuvee 2004 lies there accidentally, for we strive to live according to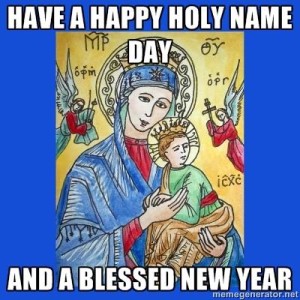 the church year, which means that we celebrated the beginning of the new year already a month ago. Thus also the Episcopal meme for the feast of the Name of the Holy Name and the New Year we consider – regardless of the primacy it gives to the church calendar – to be a dangerous concession in favor of the secular calendar. But seriously. The end of the old and the beginning of the new year, which cuts the 12 day observance of Christmas almost in half, is a sort of a false note. We are either convinced that the Incarnation of the Divine Logos announces something entirely new in the history of the world, or we concern ourselves with such irrelevant things as the "New Year." To be honest, it's of course the latter, to which the empty bottle clearly testifies (by the way, if the manufacturer would like to reward us for the advertisement, they can you the email address we gave on the blog).
As we confessed this inconsistence, let us ponder on the question if the two celebrations could be combined somehow. Two reflections came to our mind, both inspired, as is usually the case with us, by the liturgy. We began the last day of the old year by listening to the morning prayer on David Guthrie's website. The New Zealand Prayer Book has the following collect for the first Sunday after Christmas:
Jesus, your ways are not our ways.
You are the Jewish boy,
you are the questioning child the parents lost.
Make us willing to listen
and humble in what we believe is right.
Hear this prayer for your love's sake.
Amen.
The first thing that came to our mind after we heard the prayer was that it greatly suits the mood of the New Year – the time we wish each other that our wishes come true. In light of such a dangerous wish like that (let's imagine all of them really did come true!) we can see how much we need a kind of humility and distance to what we believe is right, and how important it is to let this Jewish boy question not only the Scribes in the Jerusalem temple but in the first place us. Is this what you really want? Is this what your happiness really depends on?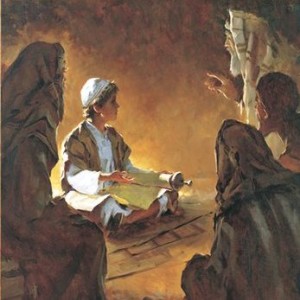 Regarding happiness. Following a traditionally sleepless New Year's Eve, we began the day by watching the New Year service broadcast by the 2 Channel of the German TV from the Frauenkirche in Dresden. Like each year, its theme was the Biblical verse for the new year (Jahreslosung): "It is good for me to draw near to God" (Psalm 73,28; in the German translation literally "my happiness is to be near to God"). Hearing these words on the Day of the Holy Name, one can hardly not associate them with the name from the Book of Isaiah that Christians relate to Jesus of Nazareth: Emmanuel, God with Us. In him God fulfills his desire of intimacy with the human being in a way that changes all relations between the Creator and creation, eliminates all barriers and leads to the deepest, most intimate relationship we express as "God-Manhood." And it is under the token of this intimacy that we should spend the year 2014. Not under the token of happiness which means fulfillment of all wishes but the one resulting of communion with Bog revealing himself in this Jewish boy who questions our visions and convictions. It seems like we'll have a very interesting year indeed…