Fragment rozważania, które wygłosiłem w ubiegłą sobotę na wieczornym nabożeństwie paschalnym mojej wspólnoty ekumenicznej, Kritische Gemeente IJmond. Hasłem przewodnim nabożeństwa było "Żyć jak nigdy dotąd".
Trudną prawdą o tradycji judeochrześcijańskiej jest, że narusza ona wszystko, co postrzegamy jako godne zaufania, racjonalne, normalne. Ona jest abnormalna! Faraonowie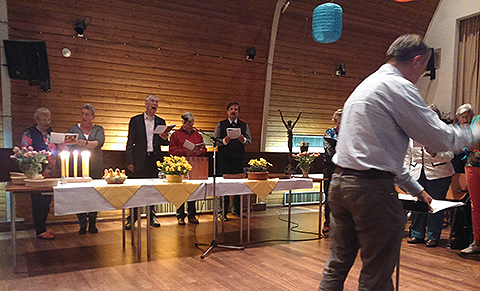 tego świata nie pozwalają, by tak łatwo odbierano im niewolników (pomyślmy choćby o Putinie!). Biedni kaznodzieje wędrowni, jak Jezus, zazwyczaj nie zmieniają biegu historii. Trafiają raczej na jej śmietnik i popadają w zapomnienie. Taki jest ten świat, zaś każdy, kto postrzega go w inny sposób, nie wyrósł jeszcze, jak widać, z krótkich spodenek. I nie myślmy, że coś sobie ułatwimy, zmieniając nazbyt dosłowne podejście do opowieści paschalnych na bardziej metaforyczne czy "uduchowione". Myśl, że Jezus żyje w oraz przez swoich uczniów i naśladowców, jest właściwie równie problematyczna jak wizja otwartego, pustego grobu. Jedynie wydaje się nieco mniej szokująca, nieco łatwiejsza do pojęcia…
Jednak Wielkanoc to właśnie niespójność. To przełom, to eksodus z takiego świata, jakim on jest, ze świata dorosłych, w którym bez przerwy szacuje się prawdopodobieństwo wydarzeń i stara właściwie ocenić skutki swoich działań. Wielkanoc jest wezwaniem do budowania na najmniej prawdopodobnym, najmniej zaufanym, najsłabszym fundamencie. Fundamencie, którego nie da się inaczej opisać aniżeli za pomocą wypowiedzi, będących z logicznego punktu widzenia czystą niedorzecznością. Świetnie wyraził to starożytny teolog Tertulian słynnymi słowami "wierzę, bo to niedorzeczność". Wielkanoc oznacza wyjście. Wyjście z rzeczywistości, którą da się przewidzieć. Z rzeczywistości, którą można dowolnie kształtować, jeżeli dysponuje się wystarczającą władzą. Świętować Wielkanoc to wariactwo. To żyć wizjami, o których wiemy, że się nie spełniają. Wyruszyć w drogę, wiedząc, że nie osiągniemy celu. Rzucać wyzwanie systemom, które mogą nas z łatwością zmiażdżyć. A w końcu rzucić w twarz śmierci: "co prawda nie mam bladego pojęcia, co to znaczy, ale i tak jestem przekonany, że ŻYCIE JEST SILNIEJSZE NIŻ TY!" Chcemy żyć "jak nigdy dotąd"? W takim razie jest to jedyna droga. Tak bowiem jeszcze nigdy nie żyliśmy, tak jeszcze nigdy nie żyłem. Ostatecznie bowiem uwierzyłem we wszystkie te historie, za pomocą których usiłowano wyjaśnić mi, co to znaczy być dorosłym, i zacząłem ostrożnie podporządkowywać się panującym w nich prawom. Jedynie to, co wydawało się możliwe, było możliwe. To oczywiście samosprawdzająca się przepowiednia, jeżeli z góry lekceważymy to, co wydaje się niemożliwe. Wielkanoc jednak zdaje się mówić: "dlaczego nie wypróbować tego, co niemożliwe, skoro to, co możliwe, i tak nie działa?". Pamiętacie jeszcze: "Pozwólmy rządzić wyobraźni"?* A właściwie jeszcze gorzej: to, czego nie potrafimy sobie nawet wyobrazić, powinno nami kierować  – "biała plama"**, "babska gadanina" Marii Magdaleny… Obdarzeni wolnością niewolnicy, którzy okazują się ludem wybranym, aby świadczyć, że Bóg nigdy nie stoi po stronie poganiaczy niewolników. Zmartwychwstały bezsilny wyrzutek społeczeństwa, którego, z największym możliwym nieposłuszeństwem, zaczęto nazywać Synem Bożym, aby pokazać, że tylko On jest Panem, a nie potężny cesarz w Rzymie…
*"Pozwólmy rządzić wyobraźni" było hasłem pierwszego naprawdę progresywnego rządu w historii powojennej Holandii, który w latach 1973-77, pod kierunkiem przywódcy socjaldemokracji Joopa den Uyla, stworzyli socjaldemokraci, radykałowie, postępowi demokraci i dwie partie konfesyjne – katolicka i protestancka.
**Określenie biała plama jest nawiązaniem do słów współczesnego teologa luterańskiego, Marcela Barnarda. W książce "Wat het oog heeft gezien" przybliża treść apostolskiego wyznania wiary, czerpiąc inspirację z arcydzieł światowego malarstwa. Rozdział poświęcony zmartwychwstaniu zainspirowany jest freskiem Giotta di Bondone Nori me tangere. Barnard pisze w nim: "Rzeczywista Pascha wymyka się postrzeganiu. Niczego nie widać. Nie da się więc również niczego sobie wyobrazić poza pustym miejscem, białą plamą. Zmartwychwstały u Giotta zmierza właśnie w tym kierunku".