This is a translation of the Penitential Order: Rite II from the 1979 BCP.
Do użytku na początku Liturgii bądź jako odrębne nabożeństwo.
Można zaśpiewać hymn lub psalm.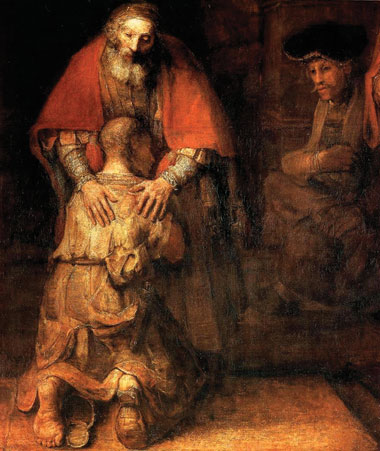 Zgromadzeni stoją, celebrans mówi
Błogosławiony niech będzie Bóg: Ojciec, Syn i Duch Święty.
Zgromadzeni I błogosławione Jego królestwo, teraz i zawsze. Amen.
Zamiast powyższego od Wielkanocy do Pięćdziesiątnicy
Celebrans Alleluja. Chrystus zmartwychwstał.
Zgromadzeni Zmartwychwstał Pan prawdziwie.
W Wielkim Poście i przy innych okazjach pokutnych
Celebrans Błogosławmy Panu, który przebacza wszystkie nasze grzechy.
Zgromadzeni Jego łaska trwa na wieki.
Jeśli porządek używany jest jako odrębne nabożeństwo, można przeczytać Ekshortację (napomnienie) ze str. 316 [nie została jeszcze przetłumaczona na język polski] bądź wygłosić homilię
Można odczytać Dekalog, podczas gdy zgromadzeni klęczą
Celebrans może przeczytać jedną z poniższych sentencji
Jezus odpowiedział: "Pierwsze jest: Słuchaj, Izraelu, Pan Bóg nasz, Pan jest jeden. Będziesz miłował Pana, Boga swego, całym swoim sercem, całą swoją duszą, całym swoim umysłem i całą swoją mocą. Drugie jest to: Będziesz miłował swego bliźniego jak siebie samego. Nie ma innego przykazania większego od tych". Mk 12:29:31
Jeśli mówimy, że nie mamy grzechu, to samych siebie oszukujemy i nie ma w nas prawdy. Jeżeli wyznajemy nasze grzechy, [Bóg] jako wierny i sprawiedliwy odpuści je nam i oczyści nas z wszelkiej nieprawości. 1J 1:8-9
Mając więc arcykapłana wielkiego, który przeszedł przez niebiosa, Jezusa, Syna Bożego, przybliżmy się więc z ufnością do tronu łaski, abyśmy otrzymali miłosierdzie i znaleźli łaskę dla [uzyskania] pomocy w stosownej chwili. Hbr 4:14-16
Diakon lub celebrans mówi następnie
Wyznajmy nasze grzechy przeciwko Bogu i bliźniemu.
Można zachować ciszę
Duchowny i zgromadzeni razem
Najmiłościwszy Boże,
wyznajemy, że zgrzeszyliśmy przeciwko Tobie
myślą, mową i uczynkiem,
tym, co uczyniliśmy,
i tym, co zaniedbaliśmy.
Nie miłowaliśmy Cię całym naszym sercem;
nie miłowaliśmy naszych bliźnich jak siebie samych.
Szczerze żałujemy i odczuwamy głęboką skruchę.
Przez wzgląd na Twego Syna Jezusa Chrystusa,
zmiłuj się nad nami i przebacz nam;
abyśmy odtąd z radością wypełniali Twoją wolę
i podążali Twoimi drogami,
ku chwale Twego Imienia. Amen.
Biskup, jeśli jest obecny, albo kapłan, wstaje i mówi
Niech Wszechmogący Bóg zmiłuje się nad wami, odpuści wam wszystkie grzechy wasze przez Jezusa Chrystusa Pana naszego, umocni was we wszystkim, co dobre, i mocą Ducha Świętego zachowa was do życia wiecznego. Amen.
Diakon albo osoba świecka, używając powyższej formy, klęczy i zastępuje "wam" przez "nam" oraz "waszych" przez "naszych".
Jeśli tego porządku używa się na początku Liturgii, nabożeństwo kontynuuje się od Gloria in excelsis, Kyrie eleison bądź Trisagion.
Jeżeli używa się go odrębnie, kończy się odpowiednimi modlitwami, życzeniem łaski i pokoju i błogosławieństwem.