Uprzedzając pytanie, które być może niektórym się nasunie, zaznaczamy od razu: nie, sami również się tego nie spodziewaliśmy! Zakładając naszego bloga, nie stawialiśmy sobie żadnych celów misyjnych. Chcieliśmy przede wszystkim informować i, o ile to możliwe za pośrednictwem internetu, dzielić się naszą własną fascynacją anglikańskim chrześcijaństwem, a szczególnie Kościołem Episkopalnym. Przez myśl nam nie przeszło, że w reakcjach na naszą pisaninę pojawi się pytanie o możliwość stworzenia w Polsce wspólnoty episkopalnej. W pierwszą rocznicę istnienia bloga zadaliśmy to pytanie wprost. Wasze reakcje nakłoniły nas do podjęcia konkretnych działań. Szczęśliwie spotkaliśmy również ludzi, którzy te działania poparli. Jest ich wielu, ale dwie osoby zasługują tutaj na wymienienie z nazwiska: prof. Daniel Joslyn-Siemiatkoski z Uniwersytetu w Berkeley w Kalifornii oraz zwierzchnik Konwokacji Kościołów Episkopalnych w Europie, ks. Biskup Pierre Whalon. Bez ich aktywnej pomocy prawdopodobnie nie zdziałalibyśmy nic.
Dzięki temu poparciu oraz gościnności krakowskich ewangelików możemy was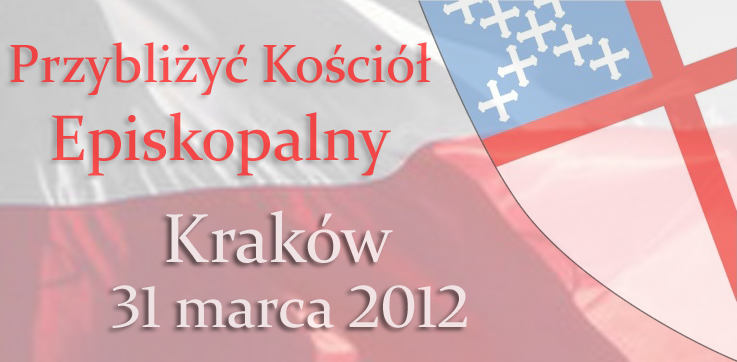 zaprosić 31 marca bieżącego roku do parafii ewangelicko-augsburskiej w Krakowie przy ul. Grodzkiej na spotkanie pod hasłem "Przybliżyć Kościół Episkopalny". W programie znajdą się prezentacje tematyczne, czas na rozmowy i wzajemne poznanie się, zaś jego ukoronowaniem będzie Nabożeństwo Eucharystyczne, które poprowadzi ks. bp Pierre Whalon. W planach mamy:
10:00
Witamy uczestników w sali katechetycznej przy ul. Grodzkiej 60 (wejście przez bramę na 1 piętro). Na spragnionych i zdrożonych czekać będzie kawa i herbata.
10:45
Oficjalne otwarcie z modlitwą.
11:15
"Kościół Episkopalny i anglikanizm, historia i współczesność" – prof. Daniel Joslyn Siemiatkoski
12:15
"Czy powstanie episkopalnej wspólnoty w Polsce może być odpowiedzią na potrzeby polskich chrześcijan?" – J. Kubacki, Ł. Liniewicz
13:00
"Konwokacja Kościołów Episkopalnych w Europie" – bp. Pierre Whalon
14:00
Zapraszamy na skromny poczęstunek
15:00
Czas na rozmowę
17:30
Nabożeństwo eucharystyczne w kościele św. Marcina przy ul. Grodzkiej 58 i zakończenie oficjalnej części spotkania
18:45
Dla chętnych nieformalne spotkanie przy kolacji
Całość będzie tłumaczona na język polski.
Zapraszamy zainteresowanych anglikanizmem, a przede wszystkim Kościołem Episkopalnym. Zapraszamy każdego, komu bliska jest wizja Kościoła nawiązującego do wielowiekowej tradycji lokalnej a jednocześnie otwartego na pytania i wyzwania współczesności; Kościoła, którego sercem jest piękna liturgia, a przede wszystkim życie sakramentalne, i który, głosząc Ewangelię Jezusa Chrystusa, odważnie podejmuje trudne pytania moralne i społeczne. Kościoła, który chce być Kościołem dla wszystkich, niezależnie od płci, przekonań politycznych, statusu materialnego, orientacji seksualnej. Jeżeli marzy wam się taki Kościół, spotkajmy się, poznajmy ze sobą i porozmawiajmy! A przede wszystkim we wspólnej Eucharystii podziękujmy za to, że "aż dotąd prowadził nas Pan" i poprośmy o to, by zechciał dalej kierować naszymi krokami.
Chętnych prosimy o nadesłanie zgłoszenia pod adres episkopalianie@gmail.com (oczywiście zapraszamy również tych, którzy zdecydują się w ostatniej chwili). Z udziałem nie są związane żadne dodatkowe koszty.