Interesujące przemyślenia Walentyna Tomberga z okazji Pięćdziesiątnicy. Tomberg urodził się w 1900 r. w Sankt Petersburgu w rodzinie luterańskiej. Już jako młodego człowieka zainteresowała go tradycja rosyjskiego ezoteryzmu chrześcijańskiego,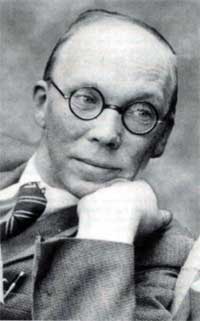 który zaczął uprawiać pod wpływem Włodzimierza Sołowiowa i osobistego doświadczenia spotkania z Sofią (Boską Mądrością) w jednej z holenderskich katedr. Pod auspicjami Towarzystwa Antropozoficznego wygłaszał odczyty w Holandii i Anglii oraz pisał książki poświęcone ezoterycznemu rozumieniu Biblii i chrześcijaństwa. Opuścił jednak Towarzystwo około 1940 r. Następnie przeszedł na katolicyzm, mieszkał w Anglii i pracował dla BBC, zarazem poświęcając czas medytacji i pisaniu. Zmarł w 1973 r.
Poniższy tekst zaczerpnęliśmy z książki Tomberga Christ and Sophia. Anthroposophic Meditations on the Old Testament, New Testament and Apocalypse. Ponieważ powstała ona w tzw. okresie antropozoficznym w życiu autora, dodajemy do niego odnośniki do tekstów, zawierających rozwinięcie pewnych pojęć w duchu antropozofii. Mamy nadzieję, że dzięki temu będzie Wam łatwiej zrozumieć myśl autora. Polecamy również lekturę wprowadzenia do antropozofii autorstwa prof. Marii Ziemskiej, które znajdziecie tutaj.
W przeszłości zamieściliśmy już inny fragment tekstu Walentyna Tomberga (o chrześcijańskim hermetyzmie). Wspominał o nim także ks. prof. Rudnicki w udzielonym nam swego czasu wywiadzie.
Wiodącym tematem Starego Testamentu jest przygotowanie i urzeczywistnienie przyjścia Chrystusa w ludzkim ciele; natomiast Nowego Testamentu przyjście Chrystusa w ludzkim "ja". "Nowy zakon" nie jest w rzeczywistości prawem, ale formowaniem istoty wolnego ludzkiego "ja". Jest to niemożliwe dopóki ludzkie "ja" nie wchłonie tego, co stanowi "nowy zakon". To wchłonięcie musi obejmować coś, co nie powstaje na zewnątrz, ale pochodzi z głębi świata, w którym zakorzenione jest ludzkie "ja". Roślina przyjmuje swoje soki z gleby, w której jest zakorzeniona, tak samo istota Chrystusowego impulsu powinna wkroczyć w ludzkie "ja" z "gleby", w której to "ja" jest zakorzenione. Za pomocą czego dokonuje się to w uczniach stanowi esencję pożegnalnych mów Chrystusa zapisanych w rozdziałach 8-17 Ewangelii wg św. Jana. Istotą tego, co tam powiedziano, jest: Byłem z wami jako wasz mistrz; teraz odchodzę do Ojca, abym mógł być w was jak Ojciec jest we mnie. Tak więc rzecz w tym, że "ja" Jezusa Chrystusa miało przejść w "ja" innych; "ja", które żyło w jednej ludzkiej postaci, musiało znaleźć drogę do wewnętrznego "ja" innych, nie naruszając w najmniejszym stopniu wolności tego "ja".

Przejście do innego "ja" jest możliwe jedynie przez sferę, która stanowi pierwszą przyczynę i pierwotne miejsce pobytu ludzkiego "ja" – rzeczywistość Ojca. Ludzkie "ja" pochodzi od Ojca i jedynie z Jego rzeczywistości może pochodzić taki wpływ na nie, który byłby zgodny z zasadą wolności. To dlatego Chrystus musiał  podążać drogą, która prowadzi, poprzez Ojca, do ludzkiego "ja". Z zewnętrznego punktu widzenia była to droga śmierci, jednak z wewnętrznego oznaczała ona całkowite zjednoczenie z Ojcem. Droga śmierci doprowadziła do zmartwychwstania, droga Ojca, natomiast, do Pięćdziesiątnicy. Śmierć i Ojciec to dwa aspekty tego samego misterium; podobnie zmartwychwstanie i Pięćdziesiątnica były dwoma aspektami misterium Golgoty. W rzeczy samej, zmartwychwstanie było zwycięstwem nad Arymanem w ciele, a Pięćdziesiątnica zwycięstwem nad Lucyferem w duszy [więcej na temat Lucyfera i Arymana w antropozofii przeczytacie w tym tekście Jerzego Prokopiuka]. Zmartwychwstanie oznacza zmartwychwstanie ciała, zaś Pięćdziesiątnica zmartwychwstanie duszy.

Pięćdziesiątnica była zmartwychwstaniem duszy w tym sensie, że ożywiła mądrość, która zjednoczyła się z duszą. Życie duszy nie powstawało jedynie z uczuć, ale z pełnych mocy postrzeżeń misterium Chrystusa – postrzeżeń, które wyrastają z najgłębszej głębi serca. Prawdziwe znaczenie serca można zrozumieć studiując Pięćdziesiątnicę; powszechne rozumienie serca znajduje się w tym samym związku z doświadczeniem Pięćdziesiątnicy jak Księżyc odnosi się do Słońca. Zmierzch nadziei i lęków serc został zastąpiony przez jasną światłość miłości, która poznaje. Niewzruszona wewnętrzna pewność, jaką posiadali apostołowie w odniesieniu do misterium Chrystusa, nie opierała się na autorytecie zmysłów zewnętrznych bądź wewnętrznych, ale na ich doświadczeniu rzeczywistości miłości. Ponieważ  apostołowie doświadczyli tej rzeczywistości w swojej duszy, poznali również drogi i sposoby, za pomocą których miała ona dalej wpływać na świat. Wiedzieli również, że to, co odczuwali w duszy, było tym samym doświadczeniem, które stało się udziałem Jezusa Chrystusa, gdy głosił Kazanie na Górze i uzdrawiał. Podobnie wiedzieli, że ta moc będzie trwała w ludziach przez Misterium Golgoty i pokona samotność oraz śmierć.

Z powodu tego doświadczenia apostołowie przemówili do obecnych, a ci słyszeli ich w swoim własnym języku. Było to możliwe, ponieważ w mowie apostołów podziały, które spowodował Lucyfer, zostały pokonane. Ponieważ Lucyfer został pokonany w czasie Pięćdziesiątnicy, stało się możliwe przemawiać w sposób, który stanowił rodzaj zmartwychwstania pierwotnego ludzkiego języka. To przemawiała zmartwychwstała dusza, nie używając języka podzielonych narodów, lecz języka duszy ludzkiej. Aby zrozumieć naturę języka Pięćdziesiątnicy nie wystarczy mieć ogólnego wyobrażenia o zwycięstwie nad podziałami spowodowanymi przez Lucyfera. Prawdziwą naturę procesu, dzięki któremu ten nowy język stał się możliwy w ludzkim organizmie, trzeba pojąć możliwie konkretnie.

Aby uzyskać wyraźniejsze wejrzenie w ten proces trzeba rozpocząć od tego, że istoty ludzkie dzielą swoją zewnętrzną egzystencję ze światem mineralnym, swoje życie organiczne z rzeczywistością roślin, a swoją umiejętność poruszania się ze światem zwierząt. Mimo to ludzie różnią się od tych trzech królestw za sprawą języka, czwartego atrybutu, który manifestuje się zewnętrznie. W istotach ludzkich przez ten atrybut objawił się kolejny człon (poza ciałem fizycznym, eterycznym i astralnym*): "ja". To pozwala ludziom nie tylko na udział w egzystencji fizycznej przez życie i poruszanie się, ale również na mówienie. Aczkolwiek ludzkie "ja" jest prawdziwym źródłem umiejętności mowy, istnienie języka zależy od trójczłonowej konstrukcji ciała. Ciało astralne jest konieczne, aby łączyć orzeczenie z przydawką, czasownik z przymiotnikiem; ciało eteryczne potrzebne jest do łączenia czasownika z rzeczownikiem; wreszcie organy ciała fizycznego są potrzebne do tego, by język mówiony zabrzmiał w powietrzu. Pochodzący od "ja" impuls mowy przechodzi przez te trzy człony ciała, aby objawić się w języku mówionym. W ramach tego procesu nie tylko wpływa na ciała, ale również ulega ich wpływom. Przez drogę aż do ciała fizycznego impuls mowy ulega ogromnej przemianie. W tej metamorfozie orzeczeniowy element w ciele astralnym ulega osłabieniu przez wpływ obszaru egoistycznej sympatii i antypatii oraz przez nieświadomą sympatię i antypatia w tej sferze, które wpływają na język, ograniczając go. Ten ograniczający wpływ skutkuje potem w postaci impulsu mowy w ciele eterycznym, który nabiera charakteru kulturowego lub narodowego i ostatecznie przejawia się w brzmieniu konkretnego języka, którego nabiera on przez organy ciała fizycznego.

Tak więc, przez różne języki, pierwotny czysto ludzki impuls mowy staje się jednostronnym i relatywnym zjawiskiem; dzieje się tak ze względu na wpływ Lucyfera na organizm ludzki. Jeżeli jednak ten wpływ zostaje przezwyciężony, jak stało się to na przykład w Pięćdziesiątnicę, impuls mowy zostaje uwolniony od ograniczającego wpływu organizmu w takim stopniu, że już nie musi wyrażać się w konkretnym pojedynczym języku. Może się swobodnie poruszać przez cały wachlarz języków ludzkich. To oznacza, że impuls mowy ludzkiego "ja" może do tego stopnia wejść w kontakt z rzeczywistością wpływów, którymi zarządza krąg duchów języków (archaniołowie lucyferyczni), że uzyskuje zdolność łączenia się ze sferą wpływów zarządzaną przez duchy narodów (zwykłe archanioły). To właśnie taką jedność z kręgiem archaniołów lub duchów narodów stworzyło dwunastu apostołów w Zielone Świątki. Było to możliwe, ponieważ to właśnie zastęp archaniołów rozprzestrzenia objawienie tajemnicy Chrystusa wśród wszystkich narodów. To, co tworzy istotę objawienia Pięćdziesiątnicy dla świadomości ludzkiej, zostaje wlane w życie narodów przez archanioły, rozdzielone na części albo "słowa". Od Pięćdziesiątnicy jest zadaniem archaniołów, jako duchów narodów, kierować wpływ Chrystusa do życia narodów. Sumę ich działań stanowi pełne zielonoświątkowe objawienie misterium Chrystusa, tak jak doświadcza go świadomość archanielska, podczas gdy sumą wiedzy dwunastu apostołów w Pięćdziesiątnicę jest pełne zielonoświątkowe objawienie misterium Chrystusa, tak jak doświadcza go świadomość ludzka. Dla kręgu apostołów stało się zatem możliwe zjednoczenie z kręgiem archaniołów. Objawienie Pięćdziesiątnicy było wydarzeniem nie tylko w świadomości ludzi, lecz również w świadomości duchów narodów. W ten sposób powstał krąg, który przyjął "apostolat" Chrystusa. Wówczas, podobnie jak ziemski ludzki krąg otoczył jedną istotę ludzką (Marię), tak krąg archaniołów otoczył jedną istotę archanielską (Sofię).

Krąg istot ludzkich na dole i krąg ognistych duchów (archaniołów) na górze tworzą razem archetyp tego, co stało się rzeczywistością dla ludzi i narodów przez Nowy Testament. Jest to prawdziwy archetyp eklezji, Kościoła, którego zadaniem jest łączyć ludzkość, podobnie jak byty z hierarchii duchowych, w jedność w Chrystusie. Ta jedność nie nastanie za pomocą organizacji czy edyktów, lecz przez żywy płomień objawienia Pięćdziesiątnicy. Istotą tego objawienia nie jest jedynie całościowa, wzmocniona znajomość misterium Chrystusa, lecz również powstanie archetypu każdej prawdziwej wspólnoty przez doświadczenie tej znajomości.

Z historycznego punktu widzenia rzeczywistość Pięćdziesiątnicy stała za ideą Kościoła; ta rzeczywistość (aczkolwiek jej wyraz stopniowo zbladł) stała się później ideą wspólnoty chrześcijan, która obejmuje wszystkie narody. Pięćdziesiątnica była prawdziwym doświadczeniem wolności w historii świata – wolności zjednoczonej z braterstwem pokornej równości wobec wzniosłego, wszechogarniającego misterium Chrystusa. Jednakże w późniejszej historii świata doświadczenie to nie było już ideą, lecz stało się zniekształconą karykaturą pod maską potwornej ludzkiej katastrofy, Rewolucji Francuskiej. Ta rewolucja była dokładnym przeciwieństwem Pięćdziesiątnicy: wspólnota ludzi świadomych swoich praw (Le droit humain) zgromadzona wokół postaci Glorii. Czym dla wydarzenia Pięćdziesiątnicy była Maria (Sofia), tym dla Rewolucji Francuskiej stała się wymyślona postać Glorii, a całkowita cisza, która przeniknęła dusze tych uczniów, którzy przeszli przez pustkę i samotność, stała się hałaśliwym domaganiem się praw.

Fakt, że Pięćdziesiątnica uległa zarówno abstrakcji, jak i zniekształceniu, jest po prostu wyrazem jej znaczenia dla całej historii czasów po Chrystusie. Pięćdziesiątnica objawia prawdziwą misję okresu pochrystusowego; wszystko obraca się wokół rozumienia, przygotowania i urzeczywistnienia tego wydarzenia, jak również wokół zaniku jego wyrazu oraz zamaskowania i zniekształcenia jego zarysów. Ponieważ jest to misja piątej epoki poatlantydzkiej (szósta epoka, filadelficzna, będzie oparta na Pięćdziesiątnicy), stanie się ona przedmiotem wszelkich ataków ze strony sił, które starają się zrealizować inny cel. Aby zrozumieć wydarzenia ostatniego wielkiego okresu w historii świata, trzeba wiedzieć, że duch Pięćdziesiątnicy będzie wciąż zmagał się na przestrzeni wieków z siłami, które chcą to zaciemnić i zniekształcić. Stanowi to wypełnienie Nowego Testamentu w tym samym sensie, w jakim przyjście Chrystusa w ciele ludzkim stanowi wypełnienie Starego Testamentu. Jest tak dlatego, że cel wydarzenia nowotestamentowego (Chrystusowego) stanowi właściwie to, aby "nowy zakon" zajaśniał we wnętrzu istot ludzkich. Chrześcijaństwo naprawdę nie jest doktryną, ale wydarzeniem, które uzyska pełne znaczenia dopiero, gdy znajdzie miejsce nie tylko na arenie historii świata, ale również w ludzkich sercach.

* W tekście, do którego link zamieściliśmy we wstępnie, prof. Maria Ziemska pisze:
"Poza fizycznym ("mineralnym") ciałem człowieka uznaje się w antropozofii także ciała: eteryczne ("roślinne"), zwane też temporalnymi, i astralne ("zwierzęce"). Pierwsze z nich jest tą nadzmysłową strukturą, którą człowiek podziela z roślinami; decyduje ono o organicznym charakterze jego ciała fizycznego (forma, dziedziczenie itp.), w swym "czasowym" aspekcie (Zeitleib) będąc podstawą ludzkiej pamięci. Drugie z nich jest również nadzmysłową strukturą, jaką człowiek podziela ze zwierzętami; stanowi ono instrument wrażeń (czuć) i doznań psychicznych człowieka, będąc podstawą zarówno jego popędów, jak świadomości i myślenia. (Jako takie posiada ono swój własny system zmysłowy, złożony z 7 tzw. "kwiatów lotosu", czyli czakramów)".