The anniversary
Today marks a year since we started Don't Shoot the Prophet. A year: 365 days and over 250 entries. A good moment to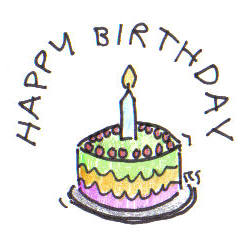 look back, take a little walk down memory lane, ask ourselves a few questions? Perhaps. Yet on the other hand, when we read once again our first post and what we wrote half a year ago, we come to the conclusion that there is not much to be added, actually. In these texts we expressed what all of this is about, what are our aims, and maybe, instead of writing almost the same things once again and giving ourselves a kind of "school report" or a congratulatory card, it would be better to ask you why do you visit us, reading what we write or find on the internet, reproduce and translate into Polish. Writing this blog is a lot of fun for us, but we are also curious whether in your opinion we fulfill the purpose we defined: a year and half a year ago. And perhaps there are some more reasons, which don't even come to our mind, why you visit us and come back more or less regularly? If you feel like it, please write to us about it: as a comment under this entry or – if you don't want for your words to be public – use our e-mail address dstp.blog@gmail.com.
Looking toward the future
Today we would like not as much to think about the past as to look into the future. No, neither of us has a crystal ball (perhaps that's a pity, perhaps it's for the better…), and being a prophet (whom, by the way, we don't claim to be) is about something else than telling the future. We are concerned about the future which is to be seen already now – at least as a question.
It has never been our purpose to make new members for the Episcopal Church. Nevertheless, we are regularly asked about it, and it comes to no surprise, actually. Sometimes we feel really weird and uncomfortable: as if we were showing you something through a window, saying at the same time that you cannot actually taste it. We don't taste it either, because we are not Episcopalians as well – at least formally. Until now we had been directing everyone who asked us to which community they should go, to the churches active in Poland. And you can easily make out to which Christian traditions we are sympathetic, which we, in a sense, promote. And still, the question about Anglicanism, in Poland represented now institutionally only by the Warsaw congregation that operates under the jurisdiction of Bishop of Gibraltar in Europe (CofE), remains with us for obvious reasons.
Due to a certain combination of circumstances, we decided to write a kind of memorandum on this matter, which we sent to Rt. Rev. Pierre Whalon, the bishop of the Convocation of Episcopal Churches in Europe. The response we received surprisingly quickly provided the final incentive to pose the question, which – sometimes implicitly, sometimes quite directly – we had been asked numerous times:
Is it possible to establish an Episcopal congregation in Poland?
First of all, a few words about the Convocation itself. At its website we read, among other things:
The Episcopal Church was anxious to provide for the spiritual needs of its members who moved to Europe in the 19th century.

A small number of congregations were established in the great cities of Western Europe, while elsewhere Episcopalians were welcomed and became committed members of many Church of England chaplaincies.

At first, visiting bishops from the States provided Episcopal oversight to the American congregations in Europe. Late in the nineteenth century, recently retired "Bishops-in-charge" were appointed for two or three years, living in Europe for several months at a time. In 1993 that pattern changed, and a full-time, non-retired resident Bishop in Charge of the Convocation was appointed, the Right Reverend Jeffery Rowthorn. And then, in 2001, the Convocation elected its own bishop, the Right Reverend Pierre W. Whalon.

…

The Convocation today is a multinational, multiracial, multilingual, and multicultural communion within the European Union — a mirror image of the multinational, multiracial, multilingual, and multicultural Episcopal Church in the USA.

…

Congregations within the Convocation vary in size from fewer than 100 members in the mission congregations to more than 1,000 at the Cathedral in Paris. In total there are more than 4,000 active parishioners throughout the Convocation.
And, as bishop Whalon writes: …we are growing!
This, of course, is a very joyous news. Does it have any importance, however, for the situation of Episcopalians/supporters of the Episcopal Church in Poland? Bishop Pierre declares: I am very interested in expanding into Eastern Europe, in fact, for a while I gave episcopal support to a house church in Kazakhstan! Obviously, one has to take into consideration that TEC doesn't operate in an ecclesial vacuum. The Convocation has a concordat with the Diocese of Gibraltar in Europe, but, as the bishop accentuates, it does not preclude starting congregations anywhere in Europe other than on top of theirs. Apart from that, in Poland operates also the Polish Catholic Church, which belongs to the Union of Utrecht that gathers the Old Catholic Churches, which are in Full Communion with the Anglican Churches. One of the rules these sister churches want to abide by (however without any spectacular successes so far), is the rule that the church jurisdictions should not overlap. Still, Bishop Pierre reassures us, these ecclesial issues are more my concern than yours.
These are very positive signals for a beginning and we are truly happy that we can pass them along. Yet they do not provide an answer to the basic question: is there a need for another Anglican congregation in Poland, this time under the aegis of the Episcopal Church? Why would the Polish people choose Anglicanism, and particularly in its Episcopal form? One thing is clear: we hear many people declare that, provided they had such an opportunity, they would have joined an Anglican church. The congregation in Warsaw doesn't give all of them this opportunity, because of the distance, to name just one reason. It's hard to expect a person from Pomerania, Masuria, Lower Silesia, or the far Lesser Poland to regularly participate in the liturgical life of the community located in the capital. Whatever we say about the situation in Poland, the Anglican congregations "will not be on top of one another". But perhaps a church planting from the Warsaw congregation would be more logical? Here we touch upon the second part of the question we've posed: if Anglicanism, why in its Episcopal form? In a sense, our entire blog is an answer to this question, of course. We write about what attracts us in the Episcopal Church: its openness, its inclusiveness. Practically, however, certain problems arise in regard to this, which ought to be discussed openly. In our "memorandum" we sent to Rt. Rev. Whalon, we wrote that even though we find the equal position of the LGBT persons in the church to be very important, we are strongly against creating communities that attract almost only such people; communities that become – if not intended this way – "gay clubs under the flag of the church". Recently, we have even asked a leader of a community which has become something like that in our opinion, to remove the link to our blog from his website. Bishop Pierre shares our opinion on this matter: as you say, we are open to gay people, but I am no more interested in what you call a gay club. We hope that we do not offend anyone by putting this like that, but we are of the opinion that also the LGBT people should be aware that the church is not a place to establish monocultures and ghettos. Obviously the point is not to preserve the proportions between people of different sexual orientations that exist in the society as a whole at every cost. It is understandable enough that a church which preaches inclusiveness attracts people for whom its lack is a personal problem, and among them also the LGBT persons. We believe, however, that if there were a first Episcopal congregation to be established in Poland, effort should be made to make it a truly diverse congregation, also in regard to sexual orientation.
What we need is … long-term commitment from 20 people to do so, including praying, working and giving for the new church. Our funds are limited … This fragment of Bishop Whalon's message inspires a few different thoughts in us. The basic question is of course: will these 20 people be found? If everyone who got in touch with us and wrote about their commitment to Anglicanism would let themselves be challenged, this number would have been almost achieved, but there is obviously a huge difference between writing one or two emails and dedicating oneself to such a project. It is so especially in light of the image of the church that the bishop's message assumes, and this image, to put it euphemistically, is not quite compatible with the concept of a church-institution that most Poles bear in mind. The Episcopal community would have to be really OUR community that we would feel entirely responsible for, that we would be ready to carry on our shoulders in every aspect. It would take a lot work and time, and apart from this it would to a large extent depend on financial support of its members. And at the same time it would be a community operating under the jurisdiction of a bishop and according to the constitutions and canons of the Episcopal Church, so it would not be a "private enterprise" of its members.
At the end, it seems appropriate to ask a question directed to everyone who reads these words and feels addressed by them in some way: would you be ready to take this challenge, do you see any sense in it, would you like to dedicate yourself to it?
A wish
You can sometimes make a wish on your birthday. On the occasion of "Don't Shoot the Prophet's" first birthday we wish that there come many substantive responses to this text. We promise that we will forward them to Bishop Whalon. The future of this, perhaps a little bit crazy, idea to create an Episcopal congregation in Poland, depends on these reactions, of course. At the same time, words of another Anglican bishop, spoken once on a different occasion, suite here well: "If it is God's will, it will happen". Of this we are convinced, anyway…